Aesthetics
Aesthetic Treatments
We are extremely particular when it comes to choosing the perfect Aestheticians to partner up with here at Rebecca Jaynes, so you can have full confidence when booking your treatment with our chosen Aesthetician, that your treatment will be carried out to the highest possible standard.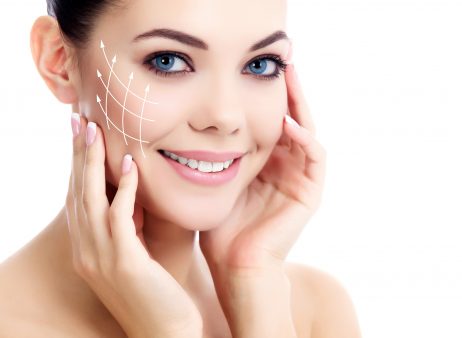 Price List
Anti-wrinkle Injections
Botulinum Toxin is a powerful drug that has the ability, when injected, to temporarily relax facial muscles. By doing this it can reduce or eliminate fine lines and wrinkles, it can also prevent new lines forming over a period of time.
It is mainly used for frown lines, forehead lines (lines when lifting eyebrows) crow's feet lines and can even treat a 'gummy smile'. Botulinum toxin can also be used to treat a variety of other conditions such as excessive sweating and has been known to reduce the symptoms of migraines.
Consultation (required)
Price: FREE  Duration: 15 minutes
1 Area
Price: £120.00 Duration: 30 minutes
2 Areas
Price: £155.00 Duration: 30 minutes
3 Areas
Price: £220.00 Duration: 30 minutes
Microneedling
Microneedling uses multiple needles to penetrate the skin at a verticle plane up to a depth of 15-20mm depending on the area treated. This, in turn, stimulates the dermal processes leading to skin tightening and remodelling. As opposed to dermal rolling, micro needling gives much better results, minimal epidermal damage, less pain and less downtime. Micro-needling results are comparable to other aesthetic treatments such as Fraxel, Laser resurfacing and IPL but are a fraction of the cost.
Microneedling works well for:
Skin tightening, lifting and rejuvenation
Acne scars and wound healing
Improving wrinkles and fine lines
Minimising pore size
Improving stretch marks
Microneedling 1 session
Price: £75.00 Duration: 45 minutes
Microneedling Courses available
£POC
Dermal Fillers
Dermal fillers (Hyaluronic Acid) such as Restylane, Juvederm and Balotero are used to enhance and sculpt the face: they are also an effective treatment for deep lines and volume loss. They are a temporary non-surgical solution to achieve younger looking skin. Fillers can be used to restore volume and contour. Common treatment sites include nose to mouth lines (nasolabial folds), mouth to chin lines (marionette lines) cheeks, lips, jawline and tear troughs (eye bags, dark circles). HA Acid fillers last on average 6-9 months but can last longer when using premium products.
Consultation
Price: FREE Duration: 15 minutes
Nasolabial Folds
Price £190-£290 Duration: 45 minutes
Marionette Lines
Price: £190-£290 Duration: 45 minutes
Smokers Lines
Price: £120-£190 Duration: 45 minutes
Cheek Augmentation
Price: £200-£400 Duration: 45 minutes
Tear-Trough Treatment
Price: £225-£300 Duration: 45 minutes
Lip Augmentation
Price: £150-£285 Duration: 45 minutes
Heart Lips
Price: £250.00 Duration: 45 minutes
Non surgical Rhinoplasty
Price: £200-£300 Duration: 45 minutes