Skincare
Skincare and Peels
After extensive research into our own skin care needs, we discovered Alumier and fell in love. We are extremely passionate about helping our clients achieve the best possible results from their skin care products. Alumier has a product to suit every skin complaint, from acne, dehydrating, aging or pigmented skin there is a product for you.
About AlumierMD
AlumierMD was developed by a global team of scientists, dermatologists and leading industry professionals. Through advanced propriety chemistry, AlumierMD has optimised the bioavailability of each molecule in the ingredients they use. As a result, their scientific formulations deliver real results.
AlumierMD was born out of an understanding that everyone wants clear, beautiful skin. They assembled a team of top scientists and physicians to bring the most effective formations using optimal medical-grade ingredients. So with over 100 years of combined experience, their experts understand the physiology behind different skin types and conditions to help our clients achieve a youthful glow.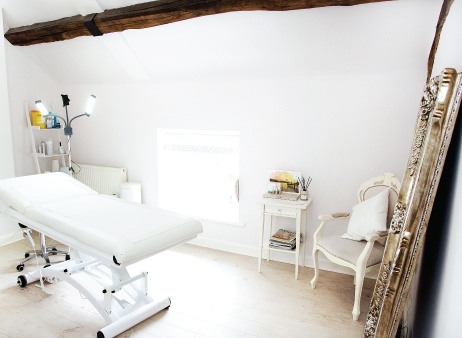 Price List
AlumierMD Professional Peels
AlumierMD Peel treatments are the next generation of clinical exfoliation. With a variety of peels, each with a unique complex of ingredients, we can customise your program of treatments to target your specific skin concerns, whether it be ageing,  pigmentation or acne, this unique experience includes an exfoliating peel treatment, brightening enhancement followed by prescriptive target serums which reveal a more radiant, soft and luminous skin.
Price: £65.00-£85.00  Duration: 30-45 minutes
Vitamin A Boost
(Acne, hyperpigmentation & ageing)
Vitamin A Boost is a potent and pure retinol and lactic acid resurfacing treatment. It reduces the appearance of fine lines, wrinkles and hyperpigmentation by boosting collagen production and speeding cell turnover, creating a more radiant and even-toned complexion. Ideal for the mature or sun damaged skin.
Detox Clear
(Acne, Congestion)
Detox Clear contains salicylic acid and lactic acid for excellent pore penetration and exfoliation. Salicylic acid penetrates into the pore and exfoliates dead skin cells and excess sebum. Lactic acid exfoliates dead skin cells and hydrates. Eucalyptus provides strong astringent properties. Together, they work to smooth skin, minimise pore size, reduce acne and prevent new pimples from forming.
Radiant 20/10
(Acne, hyperpigmentation, uneven skin tone, congestion, open pores & oiliness)
With lactic and salicylic acid, radiant 20/10 resurfacing peel contains a powerful combination of them both which improves skin tone and texture by exfoliating dead skin cells and speeding cell turnover. The multipurpose resurfacing peel reduces acne pimples and minimises the appearance of fine lines and wrinkles, large pores, hyperpigmentation and sun damage.
Radiant 30
(Hyperpigmentation, Uneven Skin tone, dull skin, lines & wrinkles)
Radiant 30 is an alpha hydroxy acid resurfacing peel containing lactic acid to exfoliate dead skin cells. Boost cell turnover and stimulate collagen, improving skin texture and tone. This multifunctional peel targets multiple skin conditions, including fine lines and wrinkles, discoloration, sun damage and large pores.
Course options
Buy a course of 3 peels (1 x entry level peel, 2 x tailor specific)
Price: £199.00 saving £35.00 (10%)
Buy a course of 6 peels (1 x entry level, 5 x tailor specific)
Price: £390.00 saving £100.00 (20%)
Crystal Clear Microdermabrasion and Oxygen Therapy Facials
Microdermabrasion Treatment
Price: £45.00 Duration: 45 minutes
Crystal Clear Microdermabrasion takes years off your complexion by gently exfoliating the outer layers of skin. You'll see a difference in your skin after just one treatment however with regular treatments, the skin increases its collagen and elastin formation, giving you a naturally firmer and rejuvenated appearance.
Dermaplaning
Price: £45.00 Duration: 75 minutes
Dermaplaining is a deep exfoliation treatment that gently removes 14 days worth of dead skin cells and downy hair from the face using a surgical blade. This treatment will remove dull, lifeless skin cells to reveal a healthy radiant glow with instantly visible results and take away downy hair for a perfect finish, ready for makeup application. It will clear skin to get rid of oil and dirt trapped in the skin and increase product absorption. Additional benefits include reducing the appearance of fine lines and wrinkles, helping to minimise acne scarring and clear blackheads and open pores by actively stimulating the cells to regenerate.
Oxygen Therapy Treatment
Price: £55.00 Duration: 45 minutes
Discover why Crystal Clear's Oxygen Therapy is the celebrity secret for younger looking, rejuvenated skin! As we age oxygen levels in the skin decrease, resulting in loss of elasticity and the formation of lines and wrinkles. Oxygen Therapy replenishes lost oxygen. Our secret weapon Oxygen Serum is packed with active ingredients that restructure the skin from the inside out, visibly plumping lines and wrinkles while firming the skin around the eyes, face and neck.
Microdermabrasion & Oxygen Therapy Treatment
Price: £70.00 Duration: 1 hour
This ultimate facial combines both Microdermabrasion with the powerful effects of Oxygen Therapy for a deep cleanse and rehydration for your skin. The results are felt immediately after the treatment, making it a perfect preparation for a big event or a great way of rehydrating and rejuvenating your skin after holidays or the long winter months.
Courses
You can benefit from a further 10% off when booking a course of 4 or more treatments together.